Ekidna, a sensor technology company for chemically complex manufacturers, is thrilled to announce their graduation from the 2022/2023 Agriculture Stream of the Creative Destruction Lab (CDL) program at the University of Calgary's Haskayne School of Business. 
Ekidna uses sensor technology to deliver instantaneous insights at the point of production in an easy-to-use fashion, requiring no external qualifications for the user. Their first application is a phytocannabinoid potency test system designed to help cannabis cultivators and breeders understand their plant beyond physical attributes without the bottleneck caused by relying on third-party and in-house labs.
After being selected to join the program from over 2160 applicants in September 2022, Ekidna is among 6 of 24 agricultural stream ventures to graduate.
"Working with CDL and the team of mentors helped us to deeply define what makes Ekidna special and how to best position ourselves in the marketplace. Coming out of the CDL, Ekidna is a refreshed company well on the path to building something massive, and we're excited to see our growth continue," said Nic Boileau, Ekidna's CEO & Co-Founder.
Upon graduating from the CDL, Ekidna has its sights set on growing its team and leveraging the knowledge gained to expand into new industries and verticals.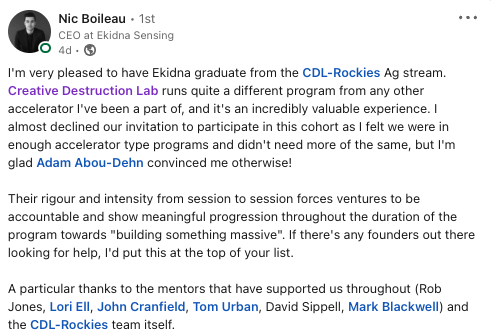 About Ekidna
Ekidna provides point-of-production testing for chemically complex manufacturing companies, with current applications in phytocannabinoid potency testing. Supporting cultivators of all sizes, focusing on nurseries and phenohunters, Ekidna helps to streamline the production process without sacrificing quality or accuracy in data gathering.
About the Creative Destruction Lab
The Creative Destruction Lab (CDL) is a seed-stage program for massively scalable, science-based companies. The thirty-six-week program employs an objectives-based mentoring process to maximize equity-value creation. The CDL is particularly suited to early-stage companies with links to university research labs. Launched in 2012 at the Rotman School of Management at the University of Toronto, the program has expanded to Atlanta, Berlin, Calgary, Estonia, Halifax, Montreal, Oxford, Paris, Seattle, Vancouver, and Wisconsin. Companies that graduated from the CDL have generated over $28B (CAD) in aggregate equity value.
All media inquiries are to be sent to:
Cali Barnstead, Sales & Marketing Coordinator
cali@ekidnasensing.com 
subject line: Ekidna Media Inquiry